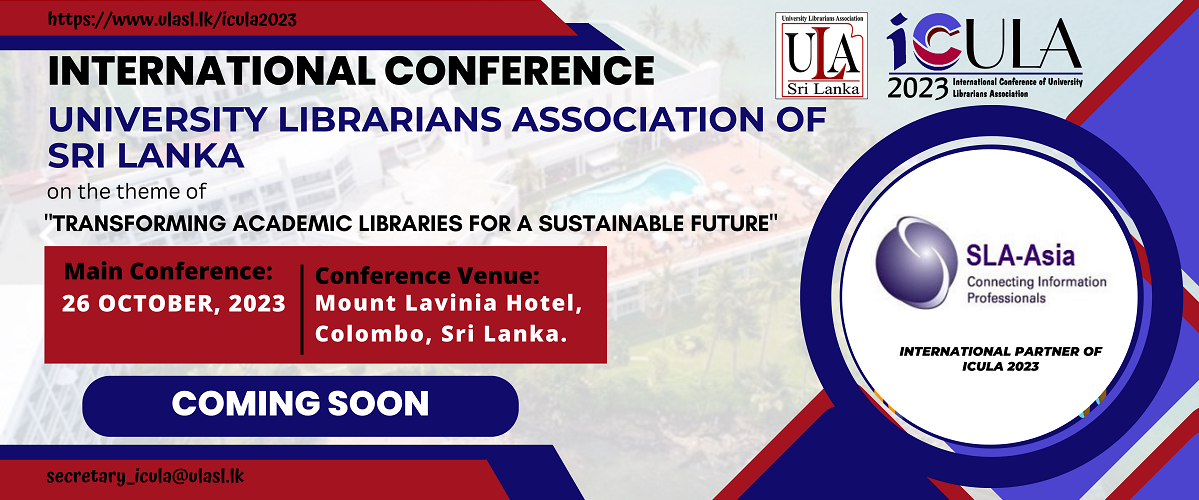 13th International Conference of University Librarians Association of Sri Lanka
(ICULA-2023)
on the theme of
"Transforming Academic Libraries for a Sustainable Future"
The conference theme highlights the pressing need for academic libraries to adapt to a rapidly changing information landscape and become more sustainable in their operations and services. Academic libraries play a crucial role in supporting research, teaching, and learning, and they must respond to the challenges posed by pandemics, economic crises, climate change, and technological advancements to remain relevant and competitive. The conference aims to explore innovative approaches, best practices, and new ideas that can help academic libraries transform themselves into sustainable institutions to meet the needs of their wider user communities.
Submission Deadline
Deadline Closed


Notification of Acceptance
Camera Ready Version
Deadline for registration of authors
Submitting Final Presentation
Deadline for registration of participants
Mount Lavinia Hotel, Colombo, Sri Lanka