Upcoming Webinar
The University Librarians Association of Sri Lanka (ULA) is organizing the International Conference of University Librarians Association (ICULA) 2023 pre-conference webinar 2, on "Data mining for research purposes". Data mining plays a crucial role in research across various fields due to its ability to extract valuable insights and patterns from large datasets. So as researchers, it is very important to know data mining to handle large datasets.
Keynote speaker for this webinar is Dr. Devindri Perera, a prominent figure in the Computer Science field. She was a senior lecturer at the Faculty of Computing and Technology, University of Kelaniya and now she is working as a lecturer at RMIT University, Australia.  Her expert areas are Biostatistics, Stochastic Processes, Statistical Design and Inference, and Data Science. She contributed a lot of publications in Data Science.

Webinar Title: "Data mining for research purposes"
Date: Thursday, 21st September 2023
Time: 2.30-4.00 p.m.
Platform: Online
Link for Registration: https://shorturl.at/HJKNQ 

Please do not hesitate to contact us with any questions or further information. We look forward to your presence at the webinar on the relevant date.

ULA Training Officer 2022/2023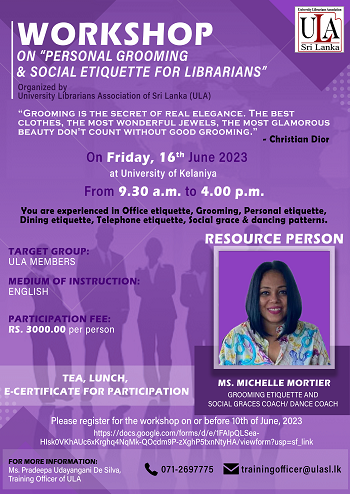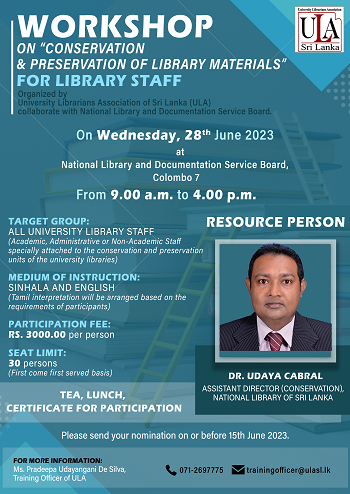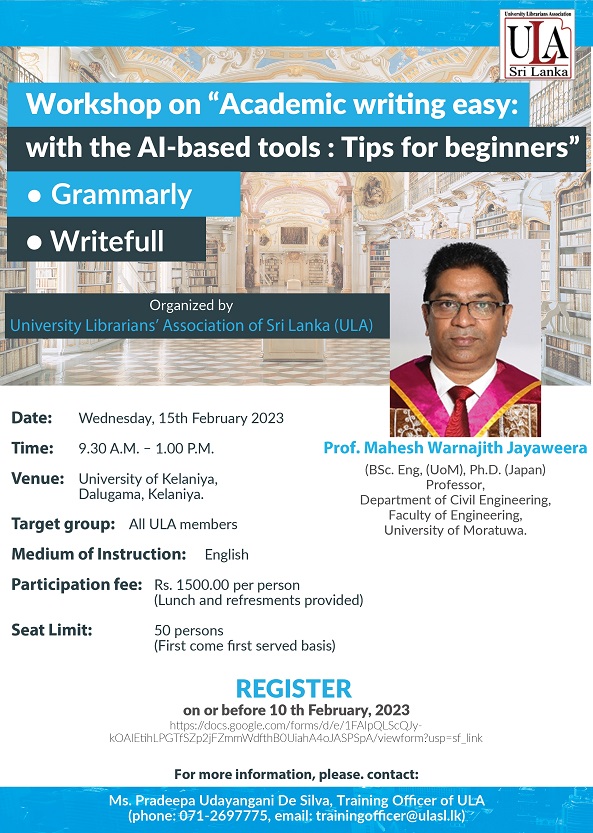 Workshop details
The ULA is planning to conduct a workshop on "Academic writing easy 
with AI-based tools: tips for beginners" on 15th February 2023 at the 
University of Kelaniya. Details of the workshop are attached to the
flyer. Please use the below link to register for the workshop on or 
before

10th February 2023

.